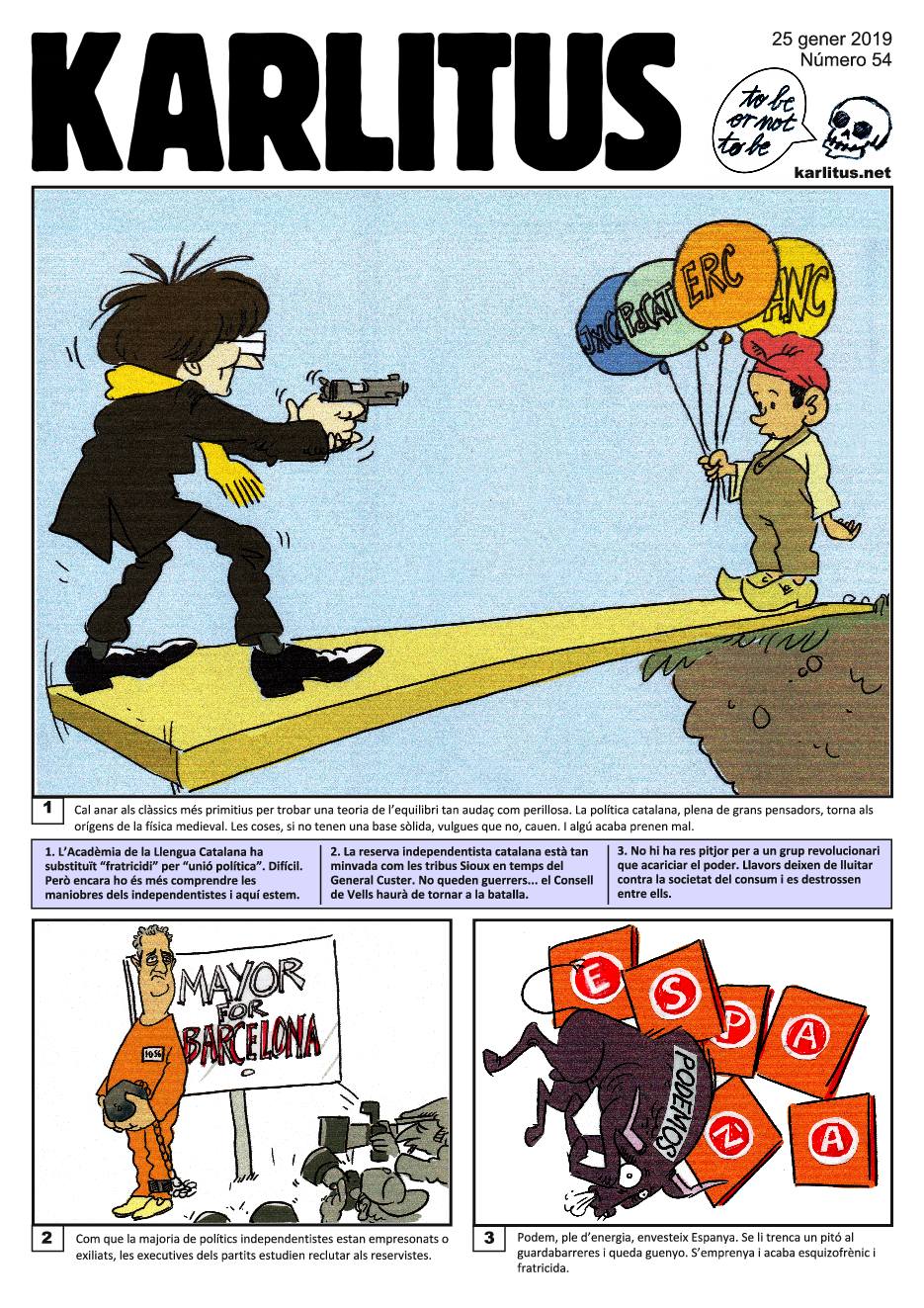 Download in PDF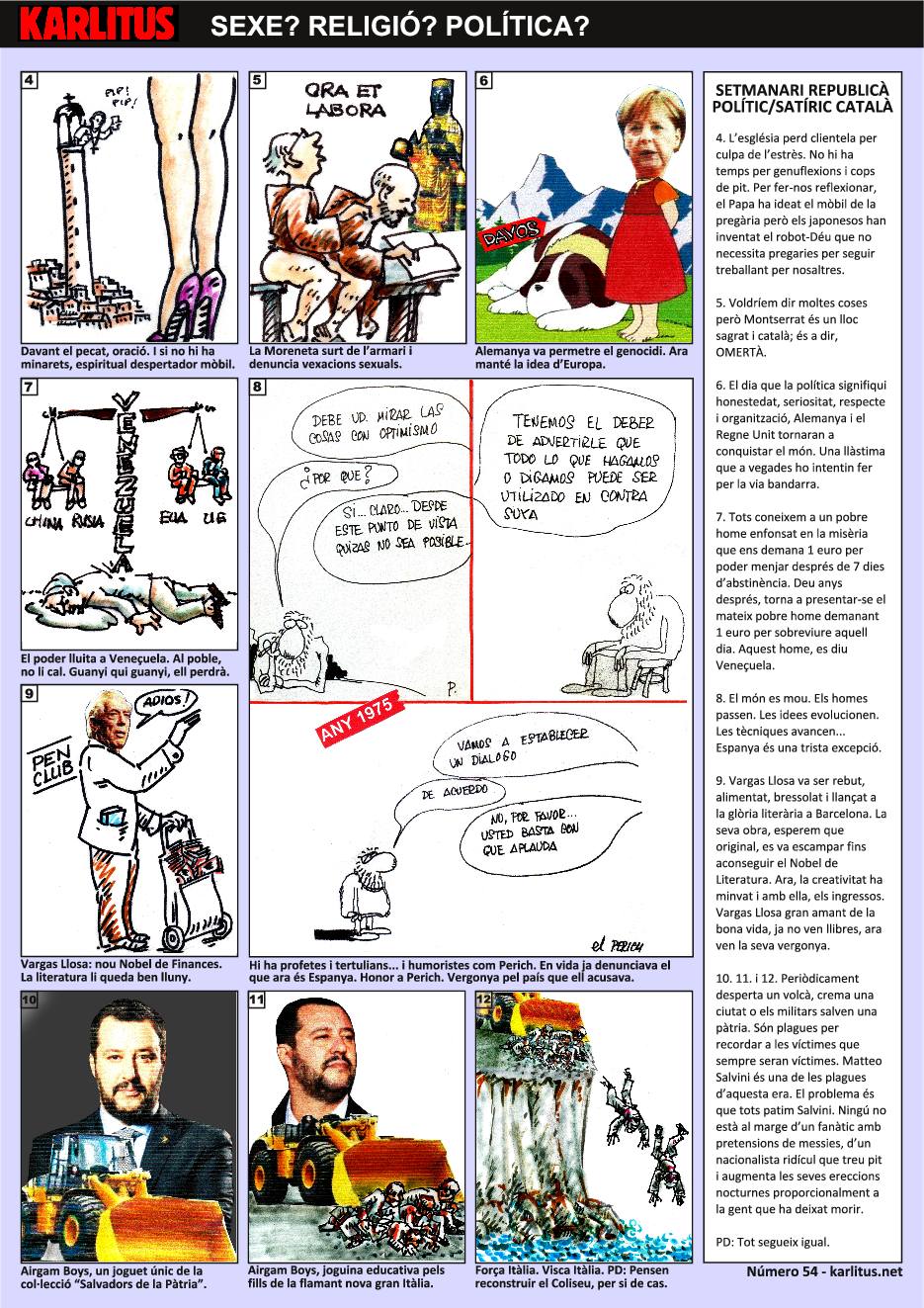 Download in PDF

Keywords : Catalan politics. Fratricide and polítical union. General Custer. Podemos and Spain. Mobile phones and prayers. Montserrat and sex. Germany and Europe. Venezuela. Perich. Vargas Llosa. Salvini the racist

Political/satiric republican weekly of Catalonia
5 february 2019

VIGNETTE 1.

You have to go back to the earliest classical writings to find a theory of equilibrium as audacious and dangerous. Catalan politics, full of great thinkers, returns to the origins of the science of physics. Things without a solid foundation fall over, no matter what you do. And falls can be painful. [Note: a lack of a common strategy for setting up a Catalan Republic among the pro-independence parties].

1.- The Academy of the Catalan Language, in its dictionary, is replacing the term "political union" with the word "fratricide". It is to reflect the current political situation resulting from the manoeuvres of the pro-independence parties. And everybody's happy that somebody's doing something at last.


VIGNETTE 2.

Since most independentist politicians are imprisoned or exiled, the political parties are considering recruiting reservists.


2.- The Catalan independentist reservation is shrinking as the territory of the Sioux tribes did in the days of General Custer. There are no warriors left. The Council of the Elders will have to return to do battle.



VIGNETTE 3.

"Podemos", full of incredible energy and boiling with anger, butts the Spanish state with all its might. It breaks its horns and is left dazed and even angrier. And it decides to channel this anger into fratricidal disputes within its ranks.
3.- There is nothing worse for revolutionary groups than to find itself in power. Then they stop fighting the consumer society and soon they are at each other's throats and they destroy themselves.

SECOND TITLE PLAN: SEX? RELIGION? POLITICS?


VIGNETTE 4.

Where there's sin, prayer is the answer. And if there are no minarets, we can use a spiritual mobile alarm clock.


4.- The church loses clientele due to stress. There is no time for genuflections and chest-beating. To make us reflect, the Pope has devised prayers via mobile phone. But the Japanese have invented the robot-God who does not need prayers to continue working for us.



VIGNETTE 5.

La Moreneta comes out of the closet and denounces sexual abuse and molestation. [Note: La Moreneta, the patroness of Catalonia whose statue is in the monastery of Montserrat. Monks in the monastery and elsewhere in Catalonia have been accused of sexual abuse of minors over the years].


5.- We would like to say many things but Montserrat is a sacred and Catalan; that is, OMERTÀ applies. [Note: Omertà – the Mafia law of silence]



VIGNETTE 6.

Germany, which unleashed genocide in Europe, now upholds the idea of Europe.

6.- The day that politics means honesty, seriousness, respect and good organization, Germany and the United Kingdom will once again conquer the world. It's a pity that sometimes they try to do it in a most crooked manner.

VIGNETTE 7.
A power struggle in Venezuela. The people can stand back and watch because no matter who wins they'll still be fucked.

7.- We all know a poor man in dire straits who asks us for a euro to be able to eat after seven days without food. Ten years later same poor man returns asking for a euro to survive to the end of the day. That man is called Venezuela.



VIGNETTE 8. Speech bubble: You must see things with optimism. / Why? / Wee must warned you that all wee do or said could be used against you. / Yes… evident… From this point of view, maybe it will not be possible… / 1975/ Wee will settle a dialogue. / OK / Non, please… You must just clap.

There are prophets and talk-show panellists... and humourists like Perich. While still alive, he denounced what is now Spain. Let us render homage to Perich. And shame on the country he accused. [Jaume Perich Escala, known as El Perich (1941-1995), a Catalan writer, cartoonist and humourist.)


8.- The world moves on. People come and go. Ideas evolve. Skills and knowledge are ever more advanced. There is a sad exception to all this, however. It's called Spain.


VIGNETTE 9.

Vargas Llosa, the new Economics Nobel Prize winner Nobel de Finances. His days as a Nobel winner or Literature were many moons ago.

9.- Vargas Llosa was nurtured as an author and found literary glory when he lived in Barcelona. His literary oeuvres, which we hope and suppose were original, gained him the Nobel Prize for Literature. Now his creativity has diminished to a trickle and so has his income. Vargas Llosa, for years accustomed as he is to the high life, no longer sells books. Instead he he sells his shame. [Note: The Peruvian formerly left-wing writer Vargas Llosa is now involved in far-right politics in the Spanish state, with a special interest in attacking the pro-independence movement in Catalonia].



VIGNETTE 10.

From Airgamboys, a unique toy from the "Saviours of the Fatherland" collection. [Note: Airgamboys is a brand of miniature figures manufactured in the Spanish state by the toy company Airgam since 1976.]

[Note: The new figure is the leader of the Spanish fascist party Vox.]



VIGNETTE 11.

Airgam Boys, yet another educational toy is on the market, this time for the children of the flourishing great new Italy. [Note: Matteo Salvini, the right-wing Italian politician serving as Deputy Prime Minister of Italy and Minister of the Interior since 1 June 2018]



VIGNETTE 12.

Long live Italy. PS. They're thinking about rebuilding the Colosseum, just in case.


10. 11. 12.- Periodically, a volcano awakes and burns down a city, or the military mobilises to save a fatherland. They are ill-fated events to remind the victims that they will always be victims. Another pestilence of our times is Salvini. The problem is that we all suffer Salvinis. Nobody is immune from fanatics with pretensions of being the new Messiah, and to boot he's a ridiculous nationalist who likes strutting about and who has nocturnal erections which increase in proportion to the number of people he has left to die. [Note: the Italian government refuses to take in migrants and refugees found at sea in the attempt to cross the Mediterranean to Europe].