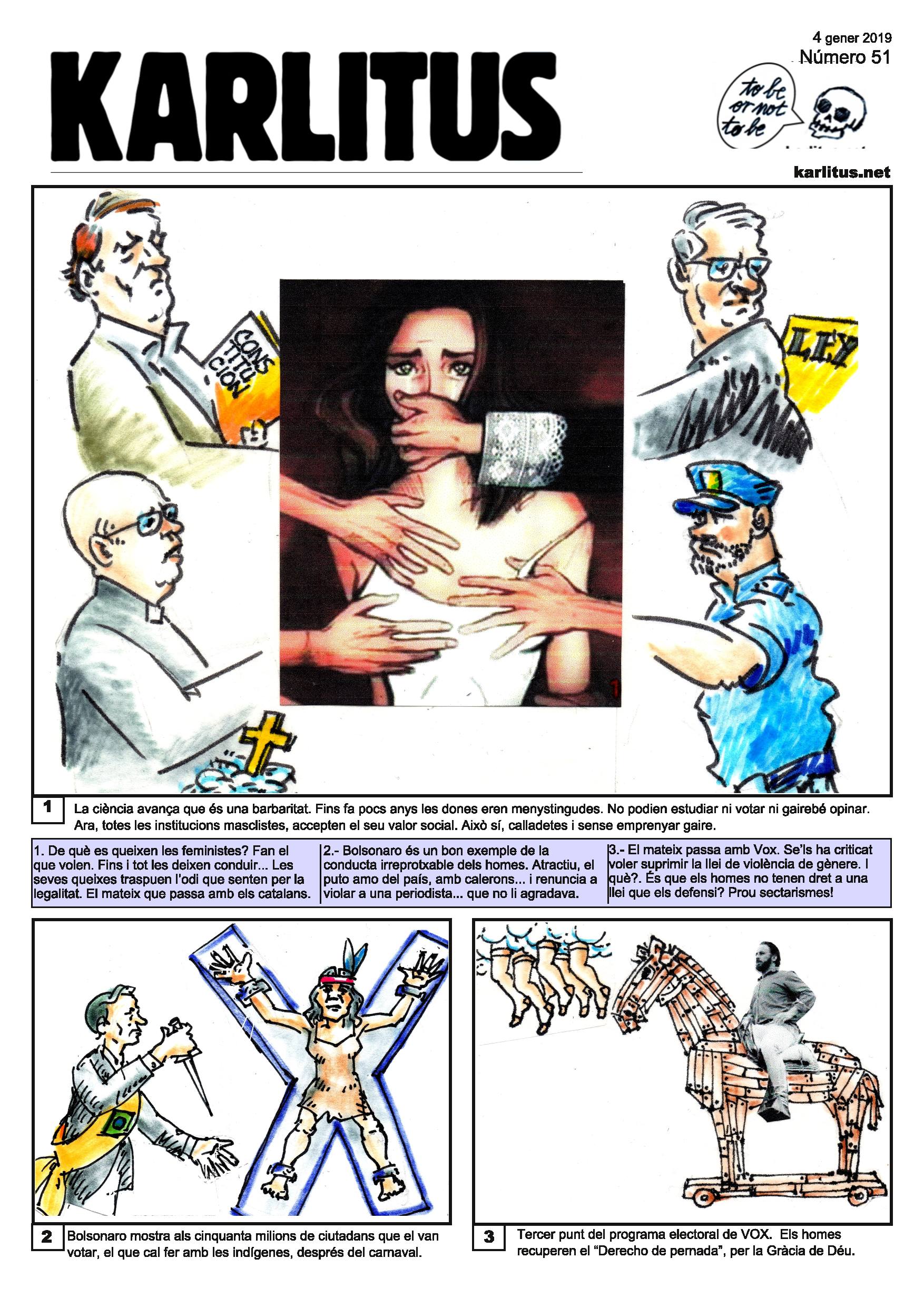 Download in PDF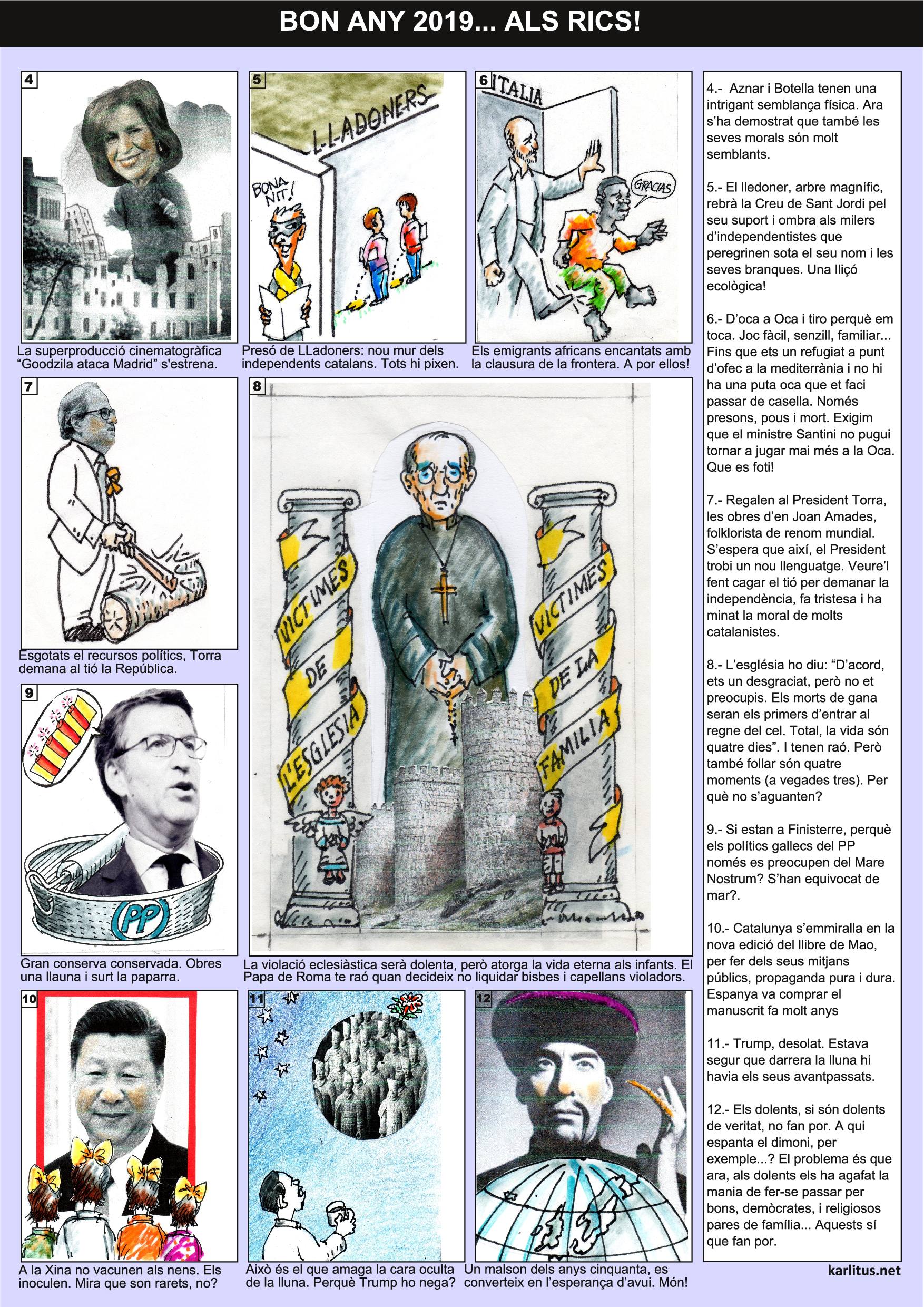 Download in PDF

Keywords : Women demeaned. Feminism. Bolsonaro and the native Brazilians. VOX and gender violence. The Lledoners prison. Santini and the immigrants. President Torra. Sexual abuses and the Catholic Church. Are the Democrats Democrats?

Political/satiric republican weekly of Catalonia
15 january 2019

VIGNETTE 1.
Progress has been made. Until a few years ago women were undervalued and demeaned. They couldn't study, or vote, or even state their opinions. Now even the most sexist of institutions accept their worth in society. So long as they keep quiet and don't draw attention to unresolved discrimination against them.
1. Why do feminists complain? They have everything. They do what they want. They can even drive if they want... Their demands are a sign of their hatred of what is legal and what is not. They're just like the Catalan independence supporters.

VIGNETTE 2.
Bolsonaro shows his 50 million voters what needs to be done with the indigenous people now that the carnival's over and it's sleeves up and down to work.
2. Bolsonaro is a good example of the irreproachable behaviour of men. He's attractive, the country's in his pocket, and he's got loads of money... and he gallantly declined to rape a woman politician ... because she wasn't attractive enough for him. [Note: in 2014 Congressman Bolsonaro told a female colleague who had called him a rapist that he wouldn't sexually assault her but because she was "not worthy" of it.]

VIGNETTE 3.
Paragraph Three in the Vox Manifesto. The droit de seigneury is re-established, by the Grace of God.
3. - The same thing is happening with Vox. They have been criticised for wanting to abolish the law of gender violence. And why is that? Don't men too have a right to a law that protects them from women? Fair's fair!

Page 2. HAPPY 2019 ... OR AT LEAST IT WILL BE IF YOU HAPPEN TO BE RICH!

VIGNETTE 4.
A new film has just been released – Godzilla Attacks Madrid.
4. Aznar and Botella both look like ogres escaped from a Teutonic fairy tale. [Note: the right-wing politicians José María Aznar (ex Spanish PM 1996-2004) and his wife Ana Botella are known for their extreme right-wing views]. Now it seems that the sense of ethics of each one is also unusually similar. [Note: Botella was ordered to pay a fine in December 2017 of 23 million euros for the sale of publicly-owned housing below the market price to 'vulture funds']

VIGNETTE 5.
The Els Lledoners Prison, within whose walls the political prisoners are being held. An opportunity for Catalans to piss on Spanish justice.
5. The Mediterranean hackberry (Celtis australis) is a magnificent tree. It will be awarded the Cross of Saint George [Note: A Catalan Government award for noteworthy contributions to Catalan society] for giving support and shade to the thousands of independence supporters who make a pilgrimage to these trees. A true example of ecology in action. [Note: Some of the Catalan political prisoners are held in the Els Lledoners (= the Hackberries) prison by Manresa, where demonstrations in their support are a daily occurrence] [Note: Bona Nit = Good Night. A demonstrator every night yells from outside the prison walls a 'Good Night' to each of the political prisoners].

VIGNETTE 6.
African immigrants are thankful to be in Italy. But the Italian government wants to kick them all out and to hear them say 'Thank you' for being shown the door.
6. - It's like a game of snakes and ladders. A pleasant board game, easy to understand and play. Except when you happen to be a refugee about to cross the Mediterranean and then you'll find there are too many snakes and not enough ladders and you'll probably never make it to the finish. And if you do get to dry land, there are even more snakes about – such as Santini. Who could send you back to square one when you've played the game and got to the final square.

VIGNETTE 7.
The way towards the Catalan Republic is no longer clear. President Torra hopes that the Christmas log will give him the Republic as a present. [Note: During the Christmas festivities, Catalan children strike a log of wood which, they are told, will 'shit out' presents for them].
7. They should give President Torra the works of Joan Amades, the world-renowned folklorist. The President will find inspiration in tradition. Such as striking the Christmas log to make it give Catalonia its independence. Nothing else the Catalan government had proposed has worked yet, and the Catalans are sunk in sadness and their morale is seriously undermined.

VIGNETTE 8.
VICTIMS OF THE CHURCH. VICTIMS OF THE FAMILY.
The ecclesiastical rape of young boys is probably a sin, but on the other hand God in his wisdom most likely takes it into account when deciding if the little boys are to be given eternal life. It is all part of the Great Scheme of Things, and so the Pope in Rome is right not to sanction bishops and priests for their acts of sexual abuse.
8. The Catholic Church says: "Okay, you're a pitiful wretch, but do not worry. The people who have died of hunger will be the first to enter the Kingdom of Heaven. In effect, life is but a brief passage of time. " And they are right. Coitus too lasts just a few moments – and sometimes a bit less. Just grin and bear it for the Glory of God and a good place in Heaven.

VIGNETTE 9.
Careful when opening a tin of canned fish from Galicia. It might have been contaminated.
9. If they are in Finisterre, on the Atlantic coast, why do the Galician PP politicians only worry about Mare Nostrum, the Mediterranean? Don't they know the difference between the seas? [Note: The head of the Galician government Alberto Núñez Feijóo, in September 1918 and on subsequent occasions, has demanded that President of the Spanish Government reapplies direct rule from Madrid in Catalonia (via Article 155 of the Spanish Constitution)]

VIGNETTE 10.
In China children are inoculated twice – once in the sense of "to implant a disease agent in a person to stimulate resistance to a disease" and then in the sense of "to implant ideas and opinions in somebody's mind".
10. Catalonia is mentioned many times in the new edition of Mao's Little Red Book, the copyright of which was bought by Spain. Propaganda is more important than facts.

VIGNETTE 11.
Is that what's on the dark side of the Moon? Why has Trump denied it?
11. Trump is greatly disappointed. He was sure his ancestors were out there, living on the dark side of the moon.

VIGNETTE 12.
What was a nightmare of the Fifties is the great hope of today.
12. The baddies, if they are really bad, are scared of nothing. Who is the devil scared of, for example...? The problem is that now, the bad guys pretend to be the goodies – democrats and religious family men. These are the really scary ones.