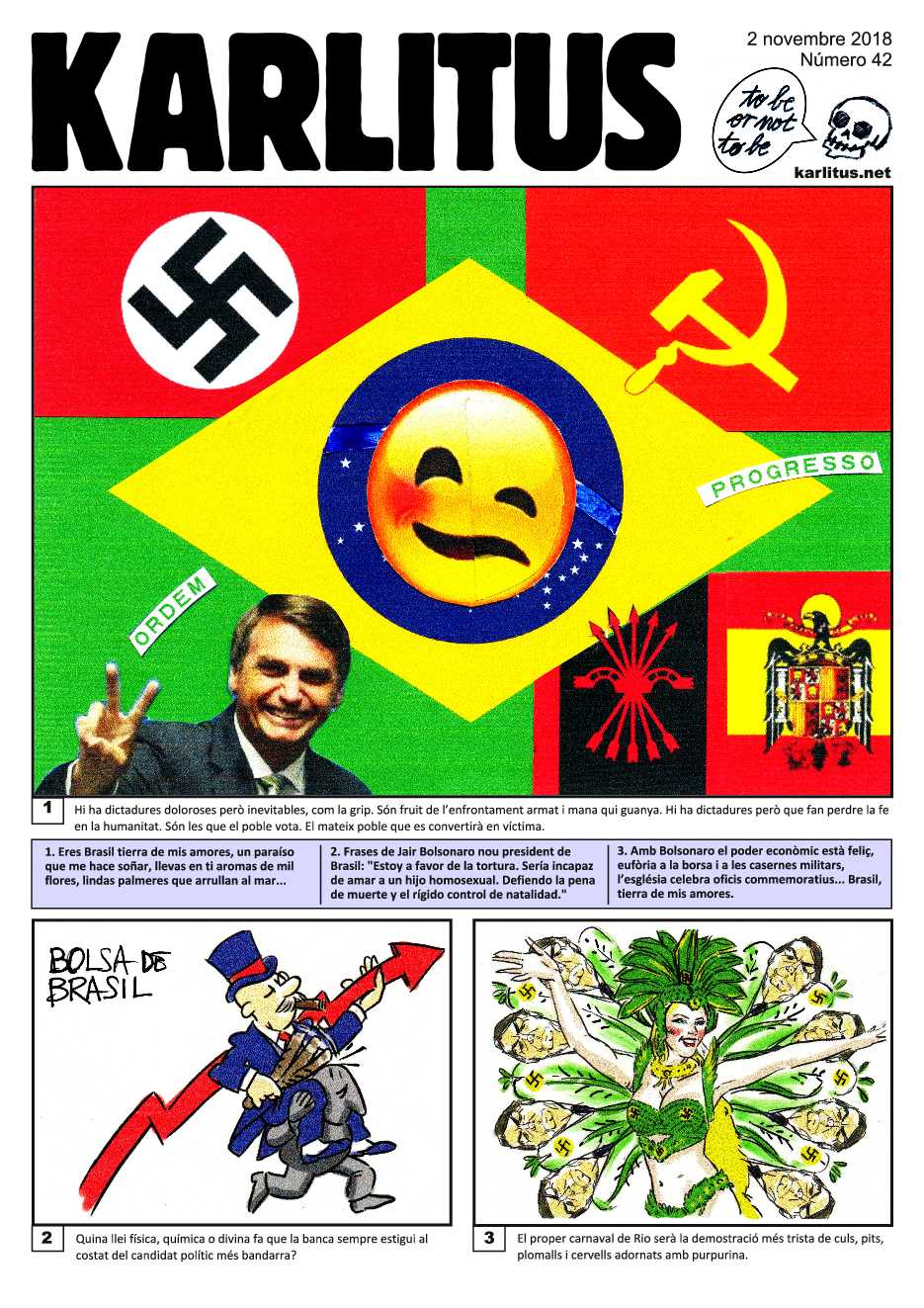 Download in PDF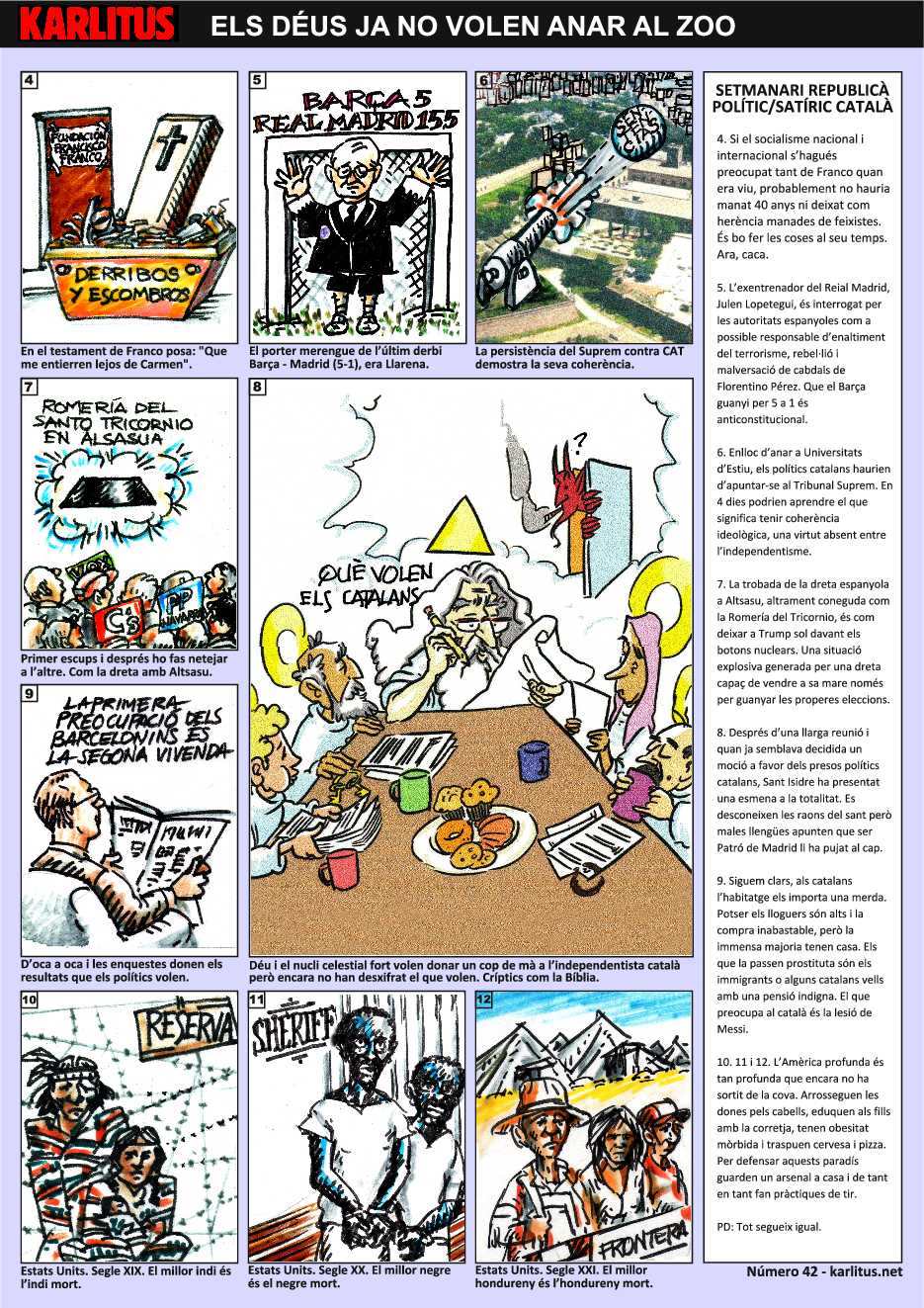 Download in PDF

Keywords : Independence of Catalonia. Elections Brazil. Jair Bolsonaro. The miserable. Home dammed. Supreme Tribunals Spanish. Donald Trump. American politics. United States

Political/satiric republican weekly of Catalonia
13 november 2018

CARTOON 1
There are dictatorships which are painful but inevitable, like a bout of shingles. They are the result of armed conflict, and whoever wins gets to rule. But there are dictatorships which make one lose all faith in humanity. They are the ones that the people vote into power. The same people who become the victims of the dictatorship.
1. - You are Brazil, the country that I love. A paradise that makes me dream. You are the fragrant scent of a thousand flowers, and the beautiful palm trees swaying in the ocean breeze.

CARTOON 2
What divine law or law of physics or chemistry dictates that the bank is always on the side of the most crooked political candidate?
2. - Said by Jair Bolsonaro, the new president elect of Brazil: "I am in favour of torture. I would not be able to love a son who was homosexual. I support the death penalty and rigid birth control.

CARTOON 3
The next Carnival of Rio will be the most melancholy of this exhibition of bums, breasts, plumes and brains adorned with glitter.
3. - The financial sector is happy with Bolsonaro in power. There is euphoria at the stock market and in the soldiers' barracks. The Catholic Church holds masses in celebration. Brazil, the country that I love.

Page 2:
THE GODS DON'T WANT TO GO TO THE ZOO

CARTOON 4
Franco's will and testament states "Please bury me as far away as possible from Carmen"
4. If socialism in the Spanish state and abroad had done something about Franco when he was alive he would probably not have been in power for forty long years or have left mobs of fascists as his legacy. Things should be done at the right moment. Now the result of not doing so is a bad stench that won't go away.

CARTOON 5
The top goalkeeper in the last Barça - Madrid match (score 5-1) was the judge Llarena.
5 The former coach of Real Madrid, Julen Lopetegui, is taken away to be interrogated by the Spanish authorities suspected of promoting terrorism, rebellion and the embezzlement of Florentino Pérez's money. It's against the Spanish Constitution for Barça to win a match against Reial Madrid. And it's a serious and unpardonable crime against the state when Barça scores 5 goals to Madrid's solitary 1.

CARTOON 6
The persistent aggression of the Supreme Court against Catalonia shows that it acts in a coherent manner.
6. - Instead of going to summer seminars, Catalan politicians should sign up to work in the Spanish Supreme Court – even if they only work there as ushers. In four days they'd learn what ideological coherence is, a trait that independence supporters lack. Fight the enemy, not your comrades in arms.

CARTOON 7
Spit, and then make the other person clean up the spit. Just like what the right-wing parties have done in Altsasu.
7.- The gathering of the Spanish right in Alsasua, a meeting which might be called 'the Romería del Tricornio', or a religious procession of paramilitaries, is like leaving Trump alone with the nuclear buttons for launching a nuclear attack. A provocation cooked up by right-wing hotheads who'd sell their grandmothers if it'd help them win the next election. With so many right-wingers in every nook and cranny you can be sure that there can be no stopping them.

CARTOON 8
God and his heavenly advisors would like to give the Catalan independence supporters a bit of help but they can't fathom what it is that they want exactly. Their intentions are undecipherable – rather like the words of the Holy Bible.
8. - They're worried up in heaven. After a long meeting (time is relative, and long refers not to units like days or weeks, but to a segment of infinity), in which a motion in support of the Catalan political prisoners was discussed and passed, Saint Isidre (the farmer) put forward an amendment to it. The reasons of the saint are unclear at present, but the word is that as Patron Saint de Madrid, in a fit of patriotic fervour he has proposed that all the Catalan saints be sent to jail along with the Catalan politicians – especially Saint Mercé and Saint Eulàlia, the two patron saints of Barcelona, and Saint Narcís from Girona, and Saint Tecla from Tarragona, and Saint Cugat and Saint Hilary and....

CARTOON 9
The main worry of the residents of Barcelona is their holiday home.
Opinion polls serve to give the results that politicians want
9. - Obviously, for Catalans having somewhere to live is not a major concern. Rents are sky-high and house prices are mean that buying a place to live is out of reach for most mortals. But the vast majority already have a home. The people most affected are immigrants, or some old decrepit Catalans with only a miserable pension to survive on. But when have the Catalans ever worried about people with no money? How bothered are they by the problems facing immigrants? Opinion polls are useful to divert attention. What is important is what percentage of the Catalan population is worried by Messi's injury which means he's unable to play for Barça in any match.

CARTOON 10
United States. Nineteenth century. The best Indian is a dead Indian.

CARTOON 11
United States. Twentieth century the best black is a dead black.

CARTOON 12.
21st Century United States. The best Honduran is a dead Honduran.

10.11.12. - America profound is so backward that its inhabitants still dwell in caves. The women are dragged along by their hair. The birch rod is never spared when bringing up the children. All the population suffers from morbid obesity and their bodies are made up of beer and pizza. But this paradise needs to be defended so they keep an arsenal of weapons at home and from time to time they do a bit of shooting practice (with the agreement of the sheriff, of course), preferably using non-whites as a target.
US politics, in order to be close to the grass roots, is designed for cavemen. Moreover, some Presidents, and there's no need to look any further than the present incumbent, besides relieving themselves in the White House garden, also do so on Twitter.