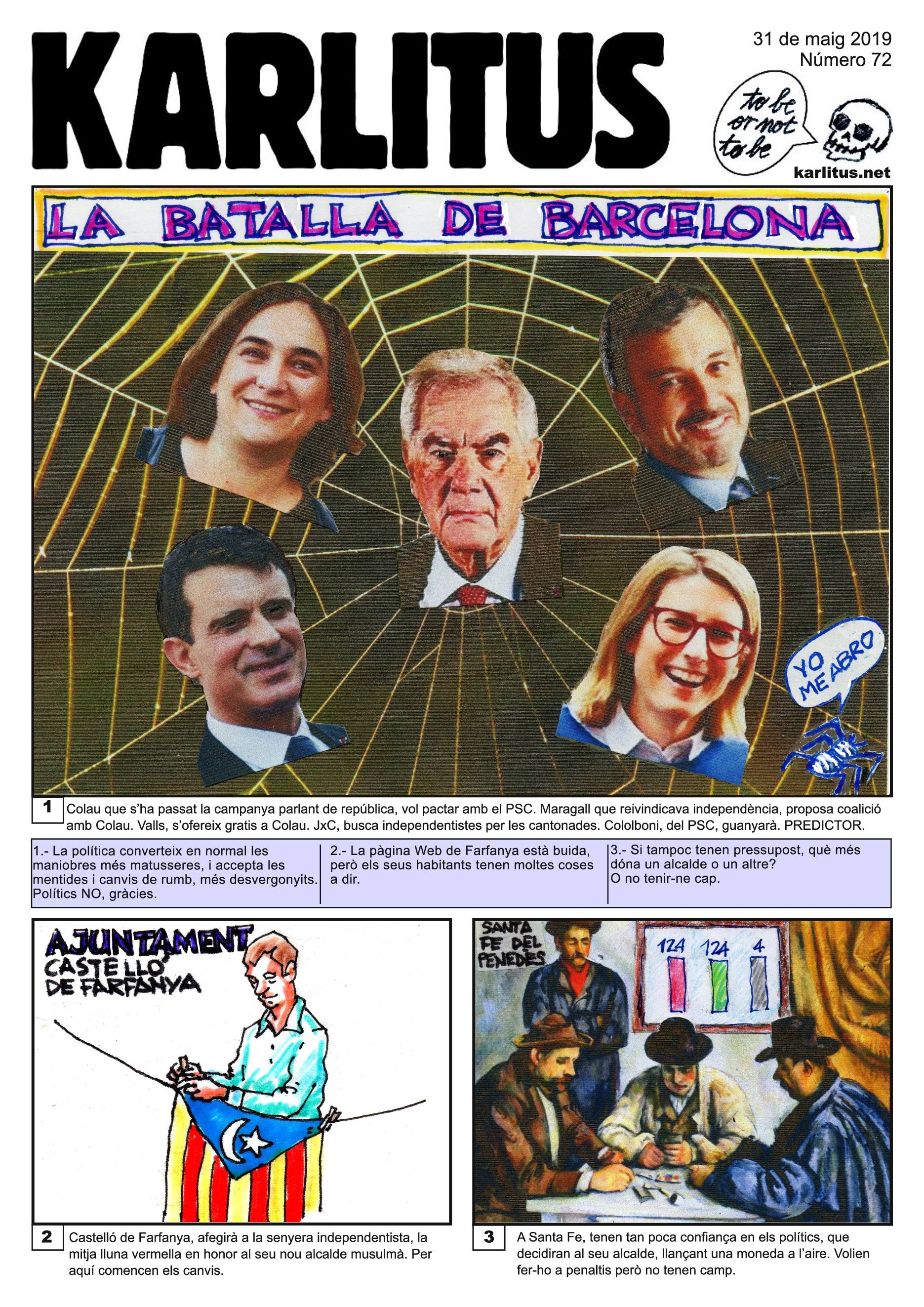 Download in PDF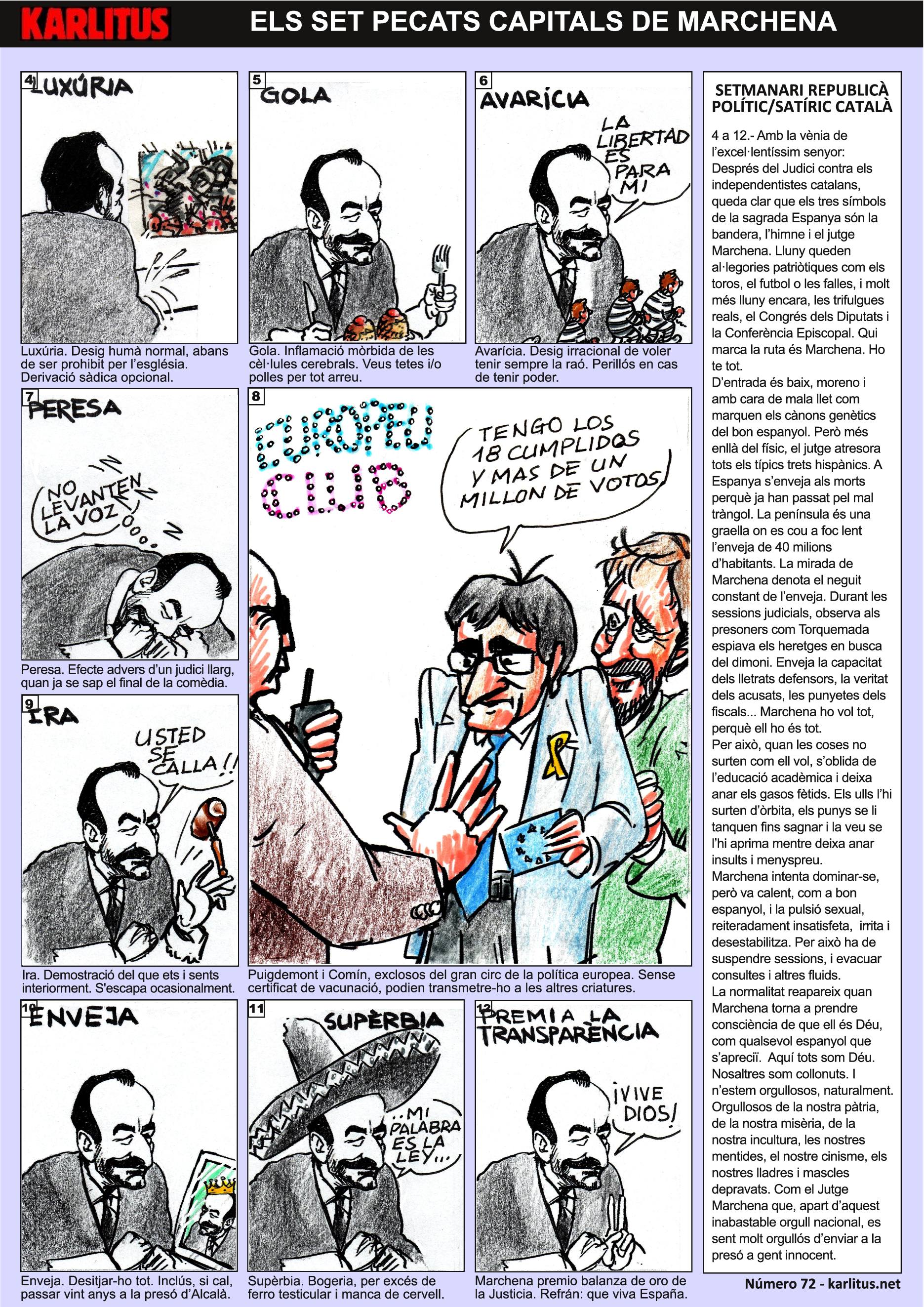 Download in PDF

Keywords : Colau. Maragall. Valls. Castelló de Farfanya. Independence flag. Judge Marchena. Puigdemont and Comín. Europe. Court case against the Catalan independence supporters. Symbols of Sacred Spain

Political/satiric republican weekly of Catalonia
11 june 2019

VIGNETTE 1. Text: The Battle for Barcelona. Speech bubble: I leave.
Colau, who has spent the municipal election campaign talking about the republic, now wants a pact with the PSC (1). Maragall (2), who demands an independent Catalonia, proposes a coalition with Colau (3). Valls (4) offers himself with no obligation to Colau. JxC (5) is looking for separatists in very nook and cranny. The ultimate winner will be Collboni, of the PSC (6). Place your bets now!
1/ [Note: The right-wing-leaning Socialist Party is a pro-monarchy unionist party].
2/ [Note: leader of the pro-independence ERC municipal group]
3/ [Note: The left-wing En Comú party, preferring ambiguity and never defining its position officially on many political matters, is known to be, by default, a pro-monarchy unionist party].
4/ [Note: The Citizens' Party, headed in the municipal elections by Manuel Valls, is a right-wing pro-monarchy unionist party which can make Colau mayoress, and she has stated she would have no truck with the Citizens' Party, Valls has offered to provide three votes to help Colau reach the 21 votes needed for an absolute majority in Barcelona City Council: En Comú 10 + Socialists 8 + Valls / Citizens' Party 3].
5/ [Note: The Together for Catalunya Party, a centre party, has lost councillors and now has only five, and has lost influence.]
6/ [Note: In a possible pact between En Comú and the PSC (.i.e. Socialists), the Socialists, led by Collnoni, though with fewer votes and seats than En Comú, will be the éminence grise behind Colau's throne].
1.- Politics makes the most obscure manoeuvres appear absolutely normal, and sudden changes of direction and whopping lies are at a stroke acceptable. Politicians, no thank you.

VIGNETTE 2. Text: Municipality of Castelló de Farfanya.
Castelló de Farfanya, with a pro-independence municipal council, will now add a red crescent to the independence flag in honour of its new Muslim mayor. The changes begin here.[Note: the new ERC mayor is a Catalan Muslim]
2.- Farfanya's website is empty, though its inhabitants have a lot to say.

VIGNETTE 3.
In Santa Fe, they have so little confidence in the politicians that they will decide who will be the mayor by tossing a coin. They had wanted a penalty shoot-out but they couldn't find a football pitch in time. [Note: The PSC and ERC parties had an equal number of votes in the municipal elections, and so which party will be in power will be decided on the toss of a coin].
3.- If the municipality has no money, what does it matter who's the mayor? Or if they have a mayor at all?

SECOND TITLE PLAN: THE SEVEN SINS OF JUDGE MARCHENA.

VIGNETTE 4. Text: Lust / Carnal Desire.
Carnal desire. A normal human desire, before being forbidden by the church. Sadism though is permitted.

VIGNETTE 5. Text: Gluttony.
Gluttony. Causes a severe inflammation of the brain cells. You begin to see breasts and / or virile members everywhere.

VIGNETTE 6. Text: Avarice. Speech bubble: Freedom is [only] for me [and not for others].
Avarice. An irrational desire to always be right. Dangerous in the case of having power.

VIGNETTE 7. Text: Sloth / Laziness. Speech bubble: Don't talk so loud.
Sloth. The adverse effect of a long trial, when the end of the judicial farce has been known before it even began.

VIGNETTE 8. Text: Club Europe. Speech bubble: (Exiled Catalan President Puigdemont) I'm over eighteen and have over a million votes.
Puigdemont and Comín, excluded from the great circus of European politics. Without a vaccination certificate, they could cause an outbreak of democracy in a parliament so far free of it. [Note: An official of the European Parliament prohibits two Catalan exiled government ministers, now Euro-MPs, from entering the Parliament on the instructions of the goverment of Spain to the EU].

VIGNETTE 9. Text: Wrath. Speech bubble: As for you, you can shut up!
Wrath. Demonstration of what you are and what you feel inwardly. It occasionally forces its way out.

VIGNETTE 10. Text: Envy.
Envy. Wanting everything. Leading, if necessary, to sending innocent people to spend twenty years of their life in the prison of Alcalá.

VIGNETTE 11. Text: Arrogant Pride. Speech bubble: My word is law.
Arrogant Pride, resulting from a lack of iron in the testicles and a missing brain.

VIGNETTE 12. Text: Prize for transparency. Speech bubble: Long live God.
Marchena wins a 24-carat gold Scales of Justice, exclaiming 'Viva España (Spain Forever)'.

4 to 12.- With the permission of his honour the judge, the new ruler of Spain. After the Trial of the Catalan pro-independence government ministers and civil activists, it is clear that the three symbols of Sacred Spain [Note: an epithet favoured by Francoists and their present-day descendents] are the Spanish flag, the Spanish anthem and Judge Marchena. The hitherto patriotic symbols are now forgotten - bullfighting, the state football team, the "falles".
[Note: a Valencian tradition co-opted as a symbol of Spain. The Falles is a traditional celebration held in commemoration of Saint Joseph in the city of València. The word is from Latin 'facula' = little torch. Gigantic effigies of a person or an object are made and eventually set on fire and completely burnt in the celebration around midnight on March 19 (adapted from wikipedia)], the shenanigans of the Royal Family, the goings-on in the parliament ('Congress of Deputies'), and the divine visitation in the form of the gathering of Spanish bishops at the Episcopal Conference.
Who now leads the way is Judge Marchena. Spain is henceforth personified by Judge Marchena, the new God on Earth.
He is short in stature, with a bronzed skin and a bad-tempered scowl, all genetic markers of a perfect specimen of a Spaniard. But beyond his physical make-up, the judge displays every one of the typically Hispanic features. In Spain, the dead are envied because after their earthly suffering they are elevated to Heaven, which the Spanish bishops assure us is a celestial New Spain. The peninsula (minus Portugal and co-opted territories) is an oven where the envy of 40 million inhabitants is slowly heated up. Marchena's eyes show he is being eaten up by envy. During the judicial sessions, he observed the prisoners as Torquemada closely observed heretics in search of the presence of the devil. [Note: Tomás de Torquemada (1420 –1498) was a Castilian Dominican friar and first Grand Inquisitor in Spain's movement to homogenise religious practices with those of the Catholic Church in the late 15th century, otherwise known as the Spanish Inquisition, which resulted in the expulsion from Spain of thousands of people of Jewish and Muslim faith and heritage. He was one of the chief supporters of the Alhambra Decree that expelled the Jews from Spain in 1492. Wikipedia]

He envies the ability of the political prisoner's defence lawyers, he envies the truth which is in the possession of the accused Catalans, he envies the barbed comments of his fellow prosecutors...
Marchena wants everything, because it is owed to him.

So when things don't go as he would like, he forgets his good manners and begins to omit toxic fumes. His eyes pop out of their sockets, he closes his fists so hard that his hands bleed, and his voice goes up an octave as he spews out his contempt and insults .
Marchena tries to control himself, but he's on fire, as a good Spaniard should be, and his sex drive, constantly unsatisfied, irritates and throws him off balance. So he constantly suspends the hearings to evacuate the bad fluids building up inside his body.
Normality reappears when Marchena remembers that he is Spanish, and therefore divine. All the Spanish are God – in fact, beings greater than God. If we're Spanish, we are la crème de la crème. And prouder than proud, of course. Proud of our homeland, our degradation, our lack of culture, our lies, our cynicism, our depraved thieves and ultra-masculine males. Judge Marchena, in addition to all these fine features of national pride, has another reason to be proud as a Spaniard - he sends innocent people to prison.